ME Awareness week 8-14 May 2017  #HelpNHSbeMEaware
On behalf of an estimated 13,000 people affected by ME-CFS in Wales WAMES is asking NHS Wales to commit to raising awareness of ME-CFS amongst its staff.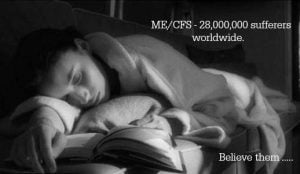 Patients tell us that while doctors and their colleagues recognise the name, many do not understand the key characteristic of Myalgic Encephalomyelitis – the post-exertional response. Nor is ME-CFS treated as a complex debilitating condition, like other neurological conditions, with appropriate care and long term support.
Government Report
In 2014 the Task & Finish Group Report on ME-CFS & FM made recommendations to Health Boards aimed at 'improving NHS services and patient experience'.
Recommendation 5: Each Health Board should undertake work to raise awareness of ME/CFS and Fibromyalgia in primary care, to support timely diagnosis and effective management of both children and adults
So far this hasn't happened. In fact no Health Board has allocated any money for awareness and training, and few Health Boards have doctors with enough experience of the condition to run training courses. Outside help will be needed, even if that costs a little money. The benefits will far outweigh the cost. The development of effective services depends on patients getting an accurate diagnosis and on service planners understanding patients' complex needs.
All-Wales Implementation Group (AWIG)
This Group of Health Board and patient representatives meet in Cardiff 3 times a year to look for ways Health Boards can implement the T&FG Report's recommendations, without funding. During 2017 the Group are encouraging Health Boards to survey their GPs, to find out what resources they use and what help they need with diagnosing and treating ME. The need for training is being revealed.
The task now is to find a cost effective way to deliver training that is much more than opportunities to share questions and lack of knowledge!
WAMES challenges the Welsh Government and Health Boards to develop an awareness and training programme using experts e.g.:
Patients and carers experiences of living with ME-CFS
Webinars with CPD points for clinicians
Research conferences with CPD points
Online videos & clinical sources
Masterclasses with visiting experts
Join us in issuing this challenge – find out more
#WAMESMECFS  #postexertionalmalaise    #BeMEaware