The #MillionsMissing are 20 million people worldwide missing from their lives because of Myalgic Encephalomyelitis (ME) a debilitating and often disabling disease.
Events to be held worldwide:
UNITED KINGDOM
London     Edinburgh     Birmingham     Newry     Isle of Man
AUSTRALIA      Sydney
EUROPE
Copenhagen, Denmark          Reykjavik, Iceland                  Dublin, Ireland
Zwolle, Netherlands               Helsingborg, Sweden             Fredrikstad, Norway              Kristiansand, Norway             Lillesand, Norway                  Oslo, Norway
Sandefjord, Norway
UNITED STATES           Sacramento
Be a virtual protest organizer
Promote the hashtag and shoe installation on your social media accounts.
Email patients, friends, families, allies who are in the vicinity of the #MillionsMissing rallies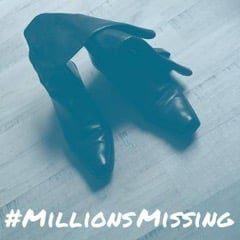 #Millionsmissing represents the millions of ME patients around the world missing from their careers, schools, social lives and families due to the debilitating symptoms of the disease.  At the same time, millions of dollars are missing from research funding that ME should be receiving based on its disease burden. And, millions of doctors are missing out on proper training to diagnose and help patients manage this illness.