You may have noticed that it was Carers Week this week! We have been posting about many of the events around Wales for carers and hope that everybody has got the message – that WAMES believes carers are important and should be able to access support if they need it!
Those of us with ME who have carers know the important role they play in helping us cope with the horrors of ME. Some of us with ME are also carers for others, as ME can hit more than one person in a family and many of us have ageing family members.
Carers Week is an annual awareness campaign which takes place to celebrate and recognise the vital contribution made by the UK's 6.5 million unpaid carers.
A new report, launched during Carers Week revealed survey results showing that 72% of the public in Wales (74% in the UK ) believe that carers are not sufficiently valued by society.
Building a carer friendly society: Research summary for Carers Week 2017
Carers Week commissioned a poll exploring public perceptions of how unpaid care is valued by society and their expectations of becoming a carer. The poll also looked at what would worry people if they took on a caring role and where they would go for support.
The vast majority of the UK public feel those caring unpaid aren't sufficiently valued by society. More than 7 in 10 (74%) of the UK public feel carers are not sufficiently valued by society for the support they provide and this figure rises to 8 in 10 (83%) of those who have previous experience of caring themselves but don't currently.
The public are not prepared for a future caring role. Half of respondents with no experience of caring (50%) think it's unlikely they would ever become a carer.
When asked to choose their top three worries about becoming a carer, they were affordability of care and the impact on their finances (46%) and coping with the stress of caring (43%).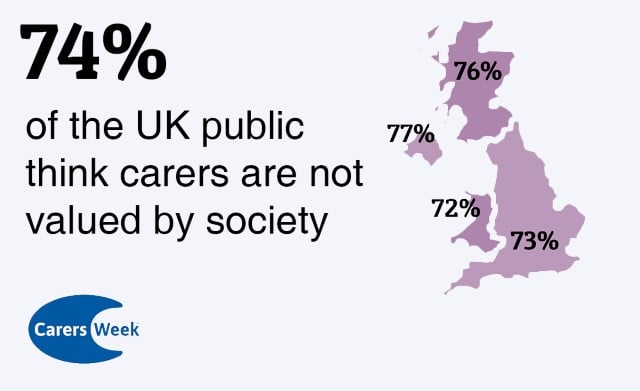 Key facts about carers
6.5 million people in the UK are carers; that's 1 in 8 adults (Census 2011)
By 2037, it is estimated that the number of carers in the UK will rise to 9 million (Carers UK)
Every day another 6,000 people take on a caring responsibility – that equals over 2 million people every year (Carers UK)
58% of carers are women and 42% are men (Census 2011)
The unpaid care provided by the UK's carers is worth £132 billion per year, an average of £19,336 per carer (Carers UK, University of Sheffield, University of Leeds)
Over 3 million people juggle care with work, however the significant demands of caring mean that 1 in 5 carers are forced to give up work altogether (Carers UK).