NHS Wales & technology – the benefits for people with ME?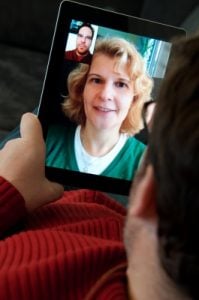 The Centre for Long Term Condition management in Powys would like to know your views on technology in relation to managing ME & CFS.
How can technology be used to improve access to services for people with ME & CFS?
e.g. Skype individual sessions, Skype groups sessions, online courses, webinars, text messaging
Which services would people wish to access through digital technology?
e.g. Consultations with specialist centres, GP consultations, Mindfulness sessions, Symptom management consultations,  Peer support, Voluntary organisations, e-learning modules
What are the pros and cons to digital communications?
e.g. availability of hardware, reliable high speed broadband access, availability of technical support, easier when housebound, adapts into lifestyle
Please send your comments to Clare Clark at Invest.pow@wales.nhs.uk (Advanced Practitioner – Occupational Therapist, Centre for Long Term Condition Management, Bronllys, Powys)
Or if you wish to submit your comments anonymously, Jan can forward them for you    jan@wames.org.uk