Significance:
Myalgic encephalomyelitis/chronic fatigue syndrome (ME/CFS) is a disease which afflicts approximately 2 million people in the United States and many more around the globe. A combination of factors might trigger ME/CFS, and there is currently no well-established blood-based biomarker to diagnose it.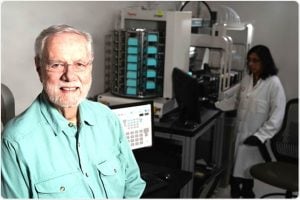 Taking advantage of advancements in micro/nanofabrication, direct electrical detection of cellular and molecular properties, microfluidics, and artificial intelligence techniques, we developed a nanoelectronics blood-based assay that can potentially establish a diagnostic biomarker and a drug-screening platform for ME/CFS. Given the significance of this assay, we envision it has the potential to be widely employed in research laboratories and clinics in the future as an aid to physicians as well as to our colleagues in the ME/CFS research community.
Research abstract:
There is not currently a well-established, if any, biological test to diagnose myalgic encephalomyelitis/chronic fatigue syndrome (ME/CFS).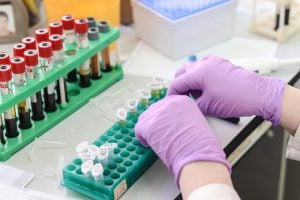 The molecular aberrations observed in numerous studies of ME/CFS blood cells offer the opportunity to develop a diagnostic assay from blood samples. Here we developed a nanoelectronics assay designed as an ultrasensitive assay capable of directly measuring biomolecular interactions in real time, at low cost, and in a multiplex format.
To pursue the goal of developing a reliable biomarker for ME/CFS and to demonstrate the utility of our platform for point-of-care diagnostics, we validated the array by testing patients with moderate to severe ME/CFS patients and healthy controls. The ME/CFS samples' response to the hyperosmotic stressor observed as a unique characteristic of the impedance pattern and dramatically different from the response observed among the control samples. We believe the observed robust impedance modulation difference of the samples in response to hyperosmotic stress can potentially provide us with a unique indicator of ME/CFS. Moreover, using supervised machine learning algorithms, we developed a classifier for ME/CFS patients capable of identifying new patients, required for a robust diagnostic tool.
News stories:
Stanford Medicine newsblog: Biomarker for chronic fatigue syndrome identified Stanford scientists devised a blood-based test that accurately identified people with chronic fatigue syndrome, a new study reports.  Apr 29 2019
Stanford Medicine SCOPE: First diagnostic test for chronic fatigue syndrome identified Apr 29 2019
News Medical Life sciences: Blood based test using AI and nanotechnology devised for chronic fatigue syndrome Apr 29 2019
Medscape: Biomarker May Be a Diagnostic Test for ME/CFS   Apr 29 2019
Science daily: Biomarker for chronic fatigue syndrome  Apr 29 2019
Daily mail: A chronic fatigue syndrome blood test can finally prove people really do suffer from the mystery disorder, study says Apr 29 2019
Independent: Blood test for chronic fatigue syndrome could speed diagnosis, study says Apr 30 2019
Telegraph: Row over chronic fatigue syndrome after Stanford scientists develop a test that 'proves condition exists'  Apr 30 2019
Science media centre: expert reaction to study investigating a potential biomarker for chronic fatigue syndrome / ME  Apr 29 2019
"This research is interesting, and if it can be the start of developing a blood-based diagnostic marker for ME/CFS, that would be great.  But it's important to understand that this is only a pilot study.  There's a long way to go, with many possible pitfalls that could still derail the development, before it gets to something that's useful in practice." Prof Kevin Conway