Carers Week 2019 – getting carers connected!
This week is Carers Week – 10th – 16th June 2019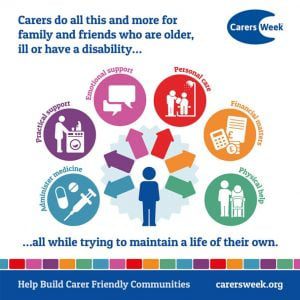 Caring can be a hugely rewarding experience but carers often find it challenging to take care of their own wellbeing whilst caring. Its impact on all aspects of life from relationships and health to finances and work should not be underestimated. Caring without the right information and support can be tough.
Do you want to be connected?
Connected to advice and information
There are lots of extra costs that can come with caring and giving up work or choosing to reduce working hours can lead to money worries.  There are many places that can offer information to carers, including your local carers' organisation, local council or local voluntary sector organisations.
Connected to services
Looking after someone can be hard work though and carers often miss out on support services available. Getting a carer's assessment which looks at what support you might need as a carer is a great start. From arranging a break from caring, getting the right equipment to care safely or getting support with improving your own well-being, services can connect carers to a range of support.
Connected to friends and family
Lack of time, and understanding from others, can cause loneliness and isolation amongst carers. The difficulty of taking time away from our caring role also adds to these feelings. Greater understanding from friends, colleagues, and the public, as well as more opportunities for breaks and social activities are all needed to combat feelings of loneliness and isolation.
Connected to others, including carers
Sometimes a few words from someone who understands your situation can be a lifeline. Being a carer can be difficult and isolating, so speaking to someone who knows what you are going through can make a big difference. Carers Week is an opportunity for you to get connected to others, including fellow carers, in your community and build new friendships.
Connected to technology
There's a whole world of technology that could help make your home safer and your life as a carer easier. While technology can never replace being with others, simple devices and Apps can help people connect on a day to day basis, help someone live independently for longer and give you peace of mind when you can't be around. Technology can also help carers connect with each other through online forums providing emotional support.
Find out more from:
WAMES helpline   Carers Trust   Carers Wales    Age Cymru    local council