Y byd ar bedwar – 4th June 2019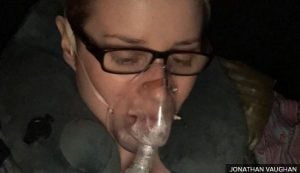 S4C's excellent documentary programme Y Byd ar Bedwar talks to Jonathan Vaughan, carer of his fiancé 28 year old Natalie Price who is severely ill with ME.  The lack of care and support for people with ME in Wales is explored as Jonathan and fellow sufferer Rhian Linecar talk about how the illness affects them and how they have turned to alternative medicine for help.
The controversial treatments of GET and CBT are mentioned along with the PACE trial. Dr Charles Shepherd, Cardiff medical students and Ben Lake MP (Plaid Cymru) give their experience of the lack of care the need to provide specialist care and increase funding for research.
Dr Neil Harrison at CUBRIC, Cardiff University's Brain Imaging Centre discusses the research he is embarking on into the effects of ME on the brain and immune system. Dr Ian Harris explains the frustrations of doctors looking for ways to help patients and how their hands are tied by the NICE guidelines.
Watch the programme – available for 29 days – subtitles are available – 24 minutes