ACTtivate Your Life course in Newport, Gwent
a four session course that aims to teach people about stress and suffering caused by emotional issues and offers a slightly different approach to more conventional methods of dealing with emotional and physical problems.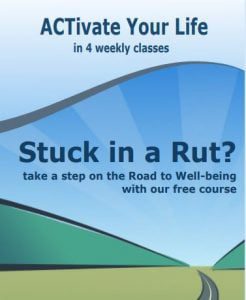 Newport
Llyfrgell Maindee Library, 79 Chepstow Road, Newport NP19 8BY
Wed 6-8pm     16 Oct – 6 Nov 2019
Wed 1-2.45pm  23 Oct – 13 Nov 2019
All courses are designed to be as accessible as possible, no personal details are taken, no referral or prior booking is required, and the non-interactive format ensures that nobody is put on the spot or asked to discuss any personal problems. You are welcome to bring a friend or relative, all are welcome. Just turn up!
About the course
Classes are based on Acceptance and Commitment Therapy, and Mindfulness based practices. These psychological approaches teach people how to reduce suffering by accepting the things in life we cannot control and committing ourselves to the things we really care about. Sessions run for approximately 2 hours, once a week, with a break half way through the session. The classes are supported by PowerPoint presentations, Home Activities and Handout sheets.
Sessions cover the following four topics:
ACT 1: Getting Wise to Your Mind
ACT 2: Facing up to Life
ACT 3: Mindfulness
ACT 4: Doing What Matters
More info:  see the Aneurin Bevan Health Board website or contact the information centre on 0330 053 5596  & select option 2
Check out the self help resources
NB  Some people with ME may find this course helpful, others won't. Please check the details to make sure it is suitable and you are well enough to attend.