ACTivate your life courses
The course is based on Acceptance and Commitment Therapy which teaches people how to reduce their suffering and how to lead a richer, more fulfilling life by accepting the things they cannot control and making a commitment to do the things that they really care about.
We all experience suffering, pain and distress at some point in our lives, whether this be psychological or physical, so anyone and everyone is welcome to attend.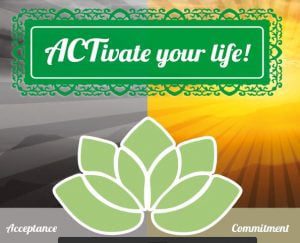 The course is run weekly over four sessions for approximately 2 hours with a break halfway through the session.
The four sessions:
ACT 1- You are not your mind
ACT 2- Facing up to your life
ACT 3- Being mindful
ACT 4- Living wisely, living well
Swansea
Swansea YMCA, 1 The Kingsway, Swansea SA1 5JQ
Room: Theatre
Tuesday 8 – 29 January 2019     2-4 pm
The courses and workshops are free, self-referral and open access, so there is no need to book on or register, simply choose what you feel is the most suitable for you and turn up; feel free to bring someone along and spread the word. There is no attendance register, but it is recommended that you attend all of the sessions to get the most out of it, although you can always switch between courses to fit in with your commitments.
For more information contact the Living Life Well programme at Abertawe Bro Morgannwg Health Board.       07967612246      living.lifewell@wales.nhs.uk
Self help material can be used to improve feelings of stress, low mood, anxiety and other wellbeing difficulties.
NB  Some people with ME may find this course helpful, others won't. Please check the details carefully to make sure it is suitable for you and you are well enough to attend