WIMS – Walk in my shoes – CWTCH event in Tesco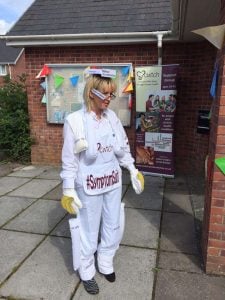 CWTCH will be presenting their Symptom Suit at Tesco in Haverfordwest SA61 1BU on  Wednesday  14th November 2018, 10-4 pm.
Volunteers will wear the suit AND walk for 30 minutes on a treadmill.  The suit helps to explain what it feels like to live with a chronic illness, in particular hidden symptoms. It is filled with weights, itchy fabric etc.
In October Stephen Crabb MP wore the symptom suit.