Team HOPE: 'Exploring trauma & distressing experiences following medical encounters' is fundraising
Highlighting Trauma From Medical Encounters with M.E. for Hope 4 ME & Fibro Northern Ireland.

Using evidenced-based research results, to influence the urgent need for Specialist ME medical training.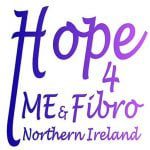 Hope 4 ME & Fibro Northern Ireland have teamed up with experts in the field, willing to undertake a novel study of traumatic and distressing experiences, after medical
encounters….but we need your help to help cover the cost of this project.
Dr.Charles Adeniji and senior colleagues in Manchester Centre for Primary Care are undertaking this important research.
Why would patients want to help support this research?
A large majority of M.E. patients report traumatic and distressing
experiences, following medical encounters.
They leave the doctor's surgery more upset than when they entered.
Complaints are made but little changes.
Now a leading U.K. researcher wishes to document these DISTRESSING AND
TRAUMATIC EXPERIENCES.
We urgently need your help to fundraise for this vital research.
There's no other option.
Once the paper is published, your (anonymous) voice will be heard.
Your experiences will no longer be hearsay.
Six month project lead by a medical doctor
Patients in N. Ireland and UK will be included. Eligibility criteria will apply.
What's that worth to you?
Contribute via the group's Wonderful fundraising page or via PayPal. (Please note Gift Aid cannot be claimed via PayPal)
Goal: £6,000
As of 13th August 2019 £1391.25 was raised.