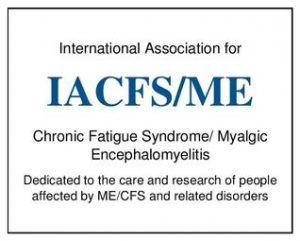 The International Association for Chronic Fatigue Syndrome/Myalgic Encephalomyelitis (IACFS/ME) is excited to invite you to our first virtual research conference to be held on August 21, 2020!
This half-day, Zoom-based meeting will consist of moderated one-hour sessions followed by a question- and-answer discussion (via Chat), similar to our in-person conferences.
 3.00 – 8pm UK       (10 AM – 3 PM Eastern Daylight Time)
Agenda:
Our conference will focus on all biomedical, public health, and behavioural aspects of ME/CFS and associated comorbidities.  Invited speakers are drawn from a selection of accepted oral presentations to our June conference that was cancelled due to COVID-19 restrictions. A portion of the meeting will also be devoted to COVID-19 and its relevance to ME/CFS research and clinical care.
We plan to record the meeting so people unable to attend live may watch it afterwards.
Attendees at IACFS/ME conferences are primarily biomedical and behavioubioral professionals, including clinicians, researchers and educators. People affected by ME/CFS and their supporters are also welcomed to attend.
Speakers include:
Dr Fred Friedberg     Dr Ronald Tompkins      Dr Luis Nacal
Dr Leonard Jason      Dr James Baraniuk         Caroline Kingdon
Dr Sadie Whitaker     Dr Eliana Lacerda            Dr Lily Chu
Mr Ryan Whelan        Dr Mathew Schu              Dr Daniel Missailidis
Dr Marvin Medow     Dr Rhonda Jane McKay  Dr Violetta Renesca
Registrations accepted until 5am Fri 21st UK time (12am Thurs EDT)
Registration fees (US $)
Professionals   $80
Students            $50
Patients / Caregivers  $50
Organisation    $65