#IAmEmbolden launches nominations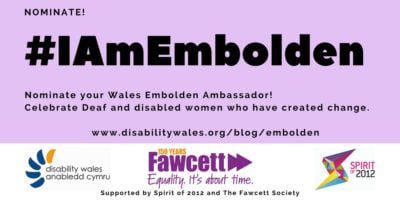 Disability Wales is looking for Embolden Ambassadors – Deaf or disabled women in Wales who are breaking stereotypes, achieving great things and creating positive change.
In the year running up to the centenary celebrations in March 2018 of women obtaining the vote, DW, with funding from Spirit of 2012 and the Fawcett Society, is highlighting the achievements of Welsh disabled women, now and in history. These stories and accompanying images will be used to create a campaign aimed at challenging myths and stereotypes about disability and showcasing our amazing women role models.
Embolden: Spirit of Disabled Women is a vision to change negative perceptions of disabled people by: sharing stories about the achievements of disabled women in Wales; and provoking conversations that challenge attitudes about disability. The nomination categories are:
Community activist
Career success
Contribution to the arts
Sports excellence
Educational achievements
Amazing in any other way
or
Historical
The closing date is 28th August 2017.