ME Awareness week media update
BBC News Scotland, 12 May 2018:
Belle and Sebastian lead singer Stuart Murdoch has called on people with ME to make a noise about the condition.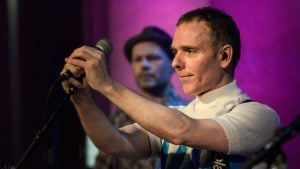 The Scotsman, 11 May 2018: Belle and Sebastian singer in ME protest
Murdoch said: "So many people with ME are housebound and these are people that we really have to make a noise for. "I was thinking the other day there used to be a charity, I think it was Christian Aid, and they had a motto – 'we believe in a life before death' – because of some of their causes, and I think that would be a good motto for ME."
Is chronic fatigue syndrome physiological or psychological? The medical world remains divided – leaving millions unsure about the efficacy of the treatment they receive says Graeme Robertson
Initially she thought she had flu but when she could not get better, her GP delivered the bad news.
She said: "I remember I told the doctor that I refused to accept his diagnosis. "When I fell ill at the office I was just so exhausted. Everything I did was like lifting a tonne of bricks."
Catherine accepted her fate and is aware that every physical activity she wants to do needs to be planned precisely as it could take a serious toll on her health.
Chantelle Parry now relies on her eight-year-old daughter to do simple tasks
'I want my sister back'. "The way I describe it is I'm actually grieving the loss of my sister because she's not around anymore. She's asleep 23-and-a-half hours a day and I want her back."
Scott Ludlam says: As researchers close in on the genetic origins of ME/CFS, it's time to say to those suffering they are not forgotten
Seventeen-year-old Ellie Percival-Mann's dreams of pursuing a degree in medicine have been hampered by myalgic encepahalomylitis (ME), a brutal yet often unseen illness affecting 250,000 people in the UK. Here, she writes about the impact it has had on her life. I am writing this from a hospital bed at the Leicester Royal Infirmary.
How should people with M.E. be treated by the NHS? Campaigners demonstrating in central London today complain that the condition, also known as chronic fatigue syndrome, is seen as having a psychological rather than physiological cause.  [3 minute video]
The #MillionsMissing campaign wants to give a voice to the thirty million people worldwide who suffer from ME
Irish news, 2 May 2018: Hope for ME: Co Down woman's campaign for the thousands living with chronic fatigue syndrome
Co Down mother Joan McParland found herself bed bound due to the debilitating, energy sapping condition ME, but she is now helping others with the illness to campaign for an improvement in services here. Jenny Lee reports
Spirit Radio, 9 May 2018: Dr Charles Shepherd – ME and Chronic Fatigue Syndrome
Dr Charles Shepherd, Hon. Medical Adviser to the ME Association (UK), speaks to Wendy Grace about ME and Chronic Fatigue Syndrome and the impacts on sufferers of the disease.   Available until Sunday December 9th, 2018 at 11:31am
ME (myalgic encephalomyelitis) is destroying the lives of 250,000 people in the UK
Picture your loved on unable to bathe, clothe or feed themselves.
This is the devastating reality of an incurable disease being faced by tens of thousands of people across the UK – an illness that barely gets any funding and that some people ignorantly refuse to accept as real.
Jo Moss: Living from one darkened room, relying on carers for the most basic of needs.
Your fatigue is of a physical, mental and emotional nature from which there is no refuge. You are shackled by this unyielding demon.
Let me first articulate the insulting inadequacies of the name itself. It evokes a fluffy suggestion of nothing more than some sliding scale ranging from tiredness to exhaustion. It could be deducted from the name that a bit of sleep would cure all. However, even excess hours of sleeping fail to result in a refreshed awakening or even a sniff of a cure. A name has never failed a medical condition more degradingly.
Salford star, 12 May 2018: Millions missing ME rally in Manchester calls for proper funded research and treatment
Shoes, poems and stories of ME at large #millionsmissing rally
ME affects four times more women than men, something which Roy says can be extremely isolating. He has suffered from the condition for 27 years and during that time the successful entrepreneur has been forced to give up numerous businesses due to the toll they have taken on his health.
Time for unrest
'Being heard' is what Millions Missing is all about. With Monaghan raising the issue in parliament and people with ME/CFS doing it online and on the streets, maybe soon the millions of people who have been disbelieved, stigmatised, given incorrect treatment or ultimately told it's 'all in their heads' will get the justice, support and treatment they deserve.
What will also stay with me from the Missing Millions demo is the face of a young girl, probably my step son's age – so nearly 12. She is living with ME, and uses a wheelchair. There was a sadness that bore deep into her eyes, almost as if you could measure the pain and anguish she has been living with through her arresting gaze. But I knew she was also a fighter.
I get angry at a lot of things. I'm stopping myself crying while writing this. But none more so than at the disgusting and contemptible treatment of disabled people by the government, medical professionals and parts of society. That beautiful young girl summed up my anger and disgust at the way a community of at least 17 million people has been effectively given a death sentence from those who should be supporting it.
No more. It is, now, 'time for unrest'.
'If I can act to help to prevent others from having endure the misfortune and indignities to which I have been subjected, my adult life will not have been entirely worthless.
For all my anger and frustration, I also hope that I may one day be in a position to accept the apologies from those who are responsible for, what Monaghan referred to as, 'one of the biggest medical scandals of the 21st century'. To live with the knowledge of having inflicted such hardship and misery upon so many for so long would be an extraordinarily heavy burden for anybody to have to bear, and I would try hard to forgive them.'
Could the answer to ME be 'blowin' in the wind'?
Southern Daily Echo, 9 May 2018: 'I count my blessings' – Meet the woman who high-fived her daughter after being diagnosed with ME
WHEN Chrissy Russell was diagnosed with ME, she and her youngest daughter, Libby, shared a high-five.
It might seem like a strange reaction to a diagnosis of Myalgic Encephalomyelitis, an incurable and difficult to treat neurological condition, that causes persistent fatigue, pain, memory problems and sleep disturbance, but for Chrissy, it was proof that her symptoms weren't, as one doctor had suggested, all in her head.
Chrissy Russell is raising awareness of M.E. and raising funds for the ME Association.
"It's a bad diagnosis to get, in terms of getting help, but I knew I had it and it was a vindication," says the mother of three from Fair Oak.
Getting a diagnosis for M.E often takes years of tests and doctor's appointments. My own diagnosis took well over 2 years and I have spoken to sufferers who waited decades. This is partly because of a lack of awareness and knowledge of M.E in the medical profession – even doubt by some professionals that M.E is a 'real' illness
 Merryn, from Rochdale, died at the age of just 21 from a condition many people – including some medical professionals – don't believe in.
"I'm trying hard not to become isolated, but I have lost most of my friends", said Nicky. "They lost patience with me cancelling things and not answering the phone on bad days.