Bridgend Mindfulness Workshop
Venue: Bridgend Arc, Quarella Road, Bridgend CF31 1JN
3 Sessions: Fridays 2nd -16th March
Time:  2-4 pm
Who can attend?
We all have mental health, just as we all have physical health- so anyone and everyone is welcome to attend to help enhance their psychological wellbeing. .
How do I join?
The courses and workshops are free, self-referral and open access, so there is no need to book on or register, simply choose what you feel is the most suitable for you and turn up. Please feel free to bring someone along and spread the word.
We do not take an attendance register, but with the courses we do recommend that you attend all of the sessions to get the most out of it, although you can always switch between courses to fit in with your commitments.
More information: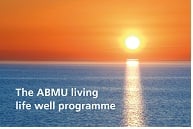 The ABMU Living Life Well Programme: living.lifewell@wales.nhs.uk or phone/text: 07967612246   website
Mindfulness means knowing directly what is going on inside and outside ourselves, moment by moment.
"It's easy to stop noticing the world around us. It's also easy to lose touch with the way our bodies are feeling and to end up living 'in our heads' – caught up in our thoughts without stopping to notice how those thoughts are driving our emotions and behaviour.
An important part of mindfulness is reconnecting with our bodies and the sensations they experience. This means waking up to the sights, sounds, smells and tastes of the present moment. That might be something as simple as the feel of a banister as we walk upstairs.
Another important part of mindfulness is an awareness of our thoughts and feelings as they happen moment to moment.
It's about allowing ourselves to see the present moment clearly. When we do that, it can positively change the way we see ourselves and our lives."    [Prof Mark Williams]
Some people with ME finds mindfulness helpful. Please make sure you are well enough to attend, to avoid triggering a relapse.