The 6-week course in Stress Control will help you to understand stress, how it can affect you and how to control it. Each week you will learn new Stress Control skills and will learn how to fit these into your own personal Stress Control toolkit.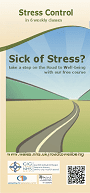 The six sessions are:
Learning about stress
Controlling your body
Controlling your thoughts
Controlling your actions
Controlling panic and sleep problems
Boosting wellbeing and looking to the future
Each person on the course receives a free Stress Control manual, containing course information, home activities and an audio CD of various mindfulness and relaxation activities. You can download the separate sections of the manual and access the audio here
Stress can affect all of us, whether we are young or old, male or female, rich or poor. Experiencing problems with stress doesn't mean that we're stupid, weak or mad. Stress is normal.
Caerphilly
Wed 2nd Oct – 6th Nov 2019, 4-5.30 pm
Venue: Seminar Room 1, Caerphilly Library, The Twyn, Caerphilly CF83 1JL
All courses above are designed to be as accessible as possible, no personal details are taken, no referral or prior booking is required, and the non-interactive format ensures that nobody is put on the spot or asked to discuss any personal problems. You are welcome to bring a friend or relative, all are welcome. Just turn up!
More info:  see the Aneurin Bevan Health Board website or contact the information centre on 0330 053 5596  & select option 2

NB  Some people with ME may find this course helpful, others won't. Please check the details to make sure the course is suitable for you and that are you well enough to attend.