International Alliance for ME writes letter to the WHO
WAMES has co-signed a letter from the International Alliance for ME to the Director General of the World Health Organisation, Dr Tedros Adhanom Ghebreyesus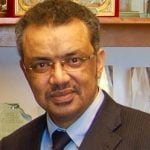 The aim is to persuade the WHO and its Member States to consult with people affected by ME in a transparent and meaningful way, to lead a global public health response to this illness.
This would include supporting increased research and ensuring appropriate education for healthcare professionals.
The International Alliance for ME so far represents patients from the US, Australia, Spain, Pakistan, South Africa, Japan and the UK and will be launching an online presence soon.
Later in May the Alliance will hold a side event at the World Health Assembly (i.e. the decision-making body that determines the policies of the WHO), aimed at raising awareness and understanding of ME among international policy-makers.
11 May 2018
Dear Dr Tedros,
Urgent action to address M.E. globally: a neglected NCD
Tomorrow, on 12th May, people across the globe will come together in public spaces, at government buildings, online and in their homes to ask: "Can you see M.E. now?" You can see their films, photographs and stories, shared for this global M.E. Awareness Day event, at www.facebook.com/MEActNet…
The International Alliance for M.E.'s awareness event on 12th May in Geneva, just one of thousands of Millions Missing events across the world, is part of our work to highlight the challenges faced by people with M.E.
We would greatly appreciate it if you could make time in your busy schedule to meet representatives from the International Alliance for M.E., a new collaboration uniting M.E. organisations in the US, Australia, Spain, Japan, South Africa and the UK. We would like to highlight the serious and significant impact of this often unrecognised condition, and explain why we are seeking urgent national and international action to increase research on the condition and ease the suffering of patients around the world.
We hope that, with the support of Members States and WHO, we will:
1. Recognise M.E. as a "serious, chronic, complex, and multisystem disease that frequently and dramatically limits the activities of affected patients" and adopt measures to provide a global and co-ordinated public health response to it.
2. Put in place transparency and a consultation process with M.E. organisations and patients on decisions related to M.E.
3. Support accelerated biomedical research to develop better diagnostic methods and treatments for M.E.
4. Ensure appropriate medical education for professionals working with M.E. patients.
As advocates, organisations, patients and carers, the International Alliance for M.E. is determined to see the condition properly recognised and treated, working with scientists and researchers across the world. We very much hope for your support for people living with M.E.
In the hope of your favorable reply to our invitation to meet,
Yours sincerely
The International Alliance for M.E.