Thesis abstract:
Investigating Post-Exertional Malaise as a Core Symptom of Myalgic Encephalomyelitis and Chronic Fatigue Syndrome: A Meta-Analytic Approach, by Abigail A. Brown (2017). Phd thesis 234, College of Science and Health, DePaul University. [Published Online September 27, 2017]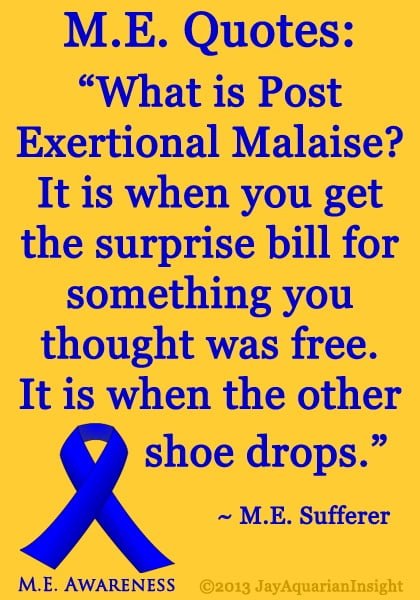 Efforts to establish a reliable and valid case definition for myalgic encephalomyelitis and chronic fatigue syndrome (ME and CFS) have been complicated by an over-reliance on clinical consensus, and inconsistent application of established case definitions by researchers across study sites. This has resulted in the absence of an empirically-based case definition for ME and CFS, as well as failed replication studies on potential diagnostic tests and biomarkers.
One step toward an empirically-driven case definition is determining which symptoms best discriminate between patients with ME and CFS versus controls. Post-exertional malaise (PEM) is considered a cardinal symptom of ME and CFS and is either required or included in many previously proposed case definitions.
PEM refers to the symptom exacerbation and impairment/sickness that follows physical exertion or cognitive effort. PEM is typically assessed subjectively, with a patient describing his or her experience to a physician or on a self-report measure. To date, there have been no meta-analyses of the findings from studies that investigate PEM differences between patients and controls.
A meta-analysis of odds ratios (association between patient status and PEM status) and a number of potential moderators (i.e., study level characteristics) of effect size were conducted for a total of 31 studies.
PEM was found to be 10.4 times more likely to be associated with an ME and CFS diagnosis than with control status. Significant moderators of effect size included patient recruitment strategy and control selection. These findings strongly suggest that PEM should be considered a cardinal symptom of ME and CFS, and the implications of the moderator analyses are discussed.