Jennifer Brea and her film Unrest
Film director Jennifer Brea is visiting the UK to support the screening of her film Unrest in Parliament in London on 25 October 2017.
BBC Radio Bristol Interview with Dr Phil Hammond  26 October 2017.  Starts at 2 hrs 21 [Available until 18 Nov 2017
BBC World Service programme Outlook, 26 Oct 2017, features the background story of Jennifer Brea. Starts at 26 mins
thebmjopionion, 4 October 2017: Julian Sheather: Unrest
Unrest is heroic filmmaking. It takes a mysterious, stigmatized and invisible disorder and brings the condition and its sufferers into clear light. It is a tribute to the filmmaker and her extraordinary husband. And also a reminder, if we need it, that the world of human suffering has not been mapped in its entirety by medicine.
The Telegraph, 24 October 2017: Could this documentary change the way we perceive chronic fatigue syndrome?
Express, 23 October 2017: THIS mysterious condition affects millions more than MS – but you probably don't know it
ME Association review of Unrest in Parliament: "I cannot recall a parliamentary meeting where we have had so much genuine interest in ME/CFS" 26 October 2017
ITV news interview with Jennifer Brea and Omar Wasow, 18 October 2017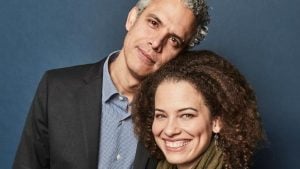 Times, 17 October 2017:  Our lives were frozen by chronic fatigue syndrome
As Jennifer Brea's chronic illness worsened and she spent more and more time confined to bed, she became increasingly active in her dreams. "Every night I'd have these incredibly kinetic dreams. I was flying or running up mountains. I'd wake up in the morning and realise that I was still in the same bedroom, and many mornings felt really disappointed that I was still alive."
Guardian, 19 October 2017: Unrest review – powerful documentary about chronic fatigue syndrome
Jennifer Brea uses her own experience and others to build up a multifaceted portrait of the condition and the toll it takes
Cosmopolitan, 18 Oct 2017: What it's like to live with an incurable illness no-one believes is real
Jennifer Brea was 28 when ME began to suck the life out of her. She was eventually left bed-bound, but doctors insisted tests showed there was nothing biologically wrong.
theupcoming.co.uk, 20 October 2017: "Picking up the camera was really an act of survival": An interview with Unrest filmmaker Jennifer Brea 
Ahead of the UK release of Jennifer Brea's widely acclaimed documentary Unrest, which details her experiences coping with chronic fatigue syndrome, we caught up with the filmmaker to discuss finding meaning in a meaningless experience, and how she finally found her voice again through the "magic" of film.
Join WAMES in bringing Jennifer's film and campaign to Wales: read about #TimeForUnrestWales campaign