Introduction:
Orthostatic intolerance is common among individuals with myalgic encephalomyelitis/ chronic fatigue syndrome (ME/CFS). In some ME/CFS case definitions, orthostatic intolerance is considered a core feature of the disorder.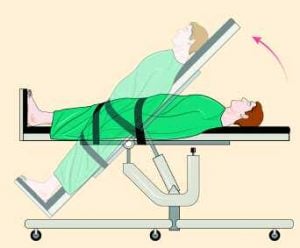 Some studies have employed tilt table tests lasting 2-5 minutes to diagnose one common form of orthostatic intolerance, postural tachycardia syndrome (POTS). We examined the diagnostic yield of abbreviated durations of tilt testing in adults meeting criteria for ME/CFS, and identified the proportion with POTS misdiagnosed using testing of less than 10 minutes.
Methods:
Eligible participants were consecutive individuals satisfying study criteria for ME/CFS and POTS evaluated at the Stichting CardioZorg (SCZ, Hoofddorp, NL) between November 2012 and August 2018. Individuals being treated with medications commonly used to manage orthostatic intolerance were excluded. Head-up tilt table testing involved 15 minutes of supine posture then 20 minutes at 70 degrees upright. Only the data from the first 10-minutes upright were used.
POTS was defined as an increase in HR during a maximum of 10 minutes of upright tilt of at least 30 beats per minute (bpm), in the absence of either classical or delayed orthostatic hypotension. We measured the time until HR criteria for POTS were reached using survival curves, and compared survival curves between subgroups divided by age, sex, disease duration, and degree of hypocapnia during the test.
Results:
Of 627 individuals with ME/CFS evaluated during the study period, 155 met criteria for POTS. The median time to reaching HR criteria for POTS was 3 minutes. A two-minute tilt table test would miss 55% (95% CI, 48 – 63%) of those meeting POTS criteria over the course of 10 minutes upright. The median time to reaching HR criteria for POTS did not differ by sex, age, duration of ME/CFS, or hypocapnia during tilt.
Conclusions:
Abbreviated tilt table testing misses a substantial proportion of those ultimately diagnosed with POTS during a 10-minute tilt table test, and should be abandoned for the clinical diagnosis and in epidemiologic studies designed to estimate the prevalence of POTS among those with ME/CFS.