Patient experiences and the psychosocial benefits of group aquatic exercise to reduce symptoms of ME/CFS: a pilot study, by  Suzanne Broadbent, Sonja Coetzee Rosalind Beavers &  Louise Horstmanshof in Fatigue: Biomedicine, Health & Behavior, [DOI: 10.1080/21641846.2020.1751455]  Published online: 11 Apr 2020
Research abstract:
Background:
The aim of the study was to explore the experiences of participants in a short aquatic exercise programme for individuals with Myalgic Encephalomyelitis/Chronic Fatigue Syndrome, and to gain insight into the perceived psychosocial benefits.
Methods: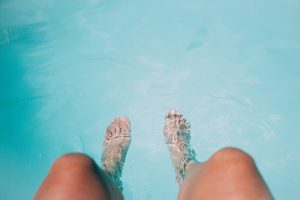 The exercise programme was of five-weeks duration, with two self-paced aquatic sessions per week. Eleven female participants (mean age 54.8 ± 12.4 yr) reported the onset and changes (24–48 h) in post-exercise fatigue, pain and other symptoms after each session, and completed a post-intervention interview comprising nine open-ended questions, with additional discussions. The reported symptoms and interview responses were entered into a spreadsheet, grouped and coded to identify the themes and subthemes.
Results:
The main themes were 'symptoms', 'benefits', 'engagement and compliance', and 'limitations'. The analysis found that group aquatic exercises reduced social isolation through shared experiences and enhanced support; were beneficial and enjoyable without exacerbating symptoms; were preferable to other modes of exercise; and were seen as a long-term exercise option. Participants reported a reduction in pain, fatigue and anxiety after the intervention.
Conclusions:
Psychosocial benefits suggest that self-paced group aquatic exercise is a safe, enjoyable and effective mode of exercise rehabilitation for people with Myalgic Encephalomyelitis/Chronic Fatigue Syndrome.