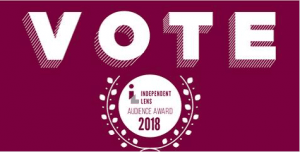 Independent Lens Audience Award
Unrest is in the running for the 2017-18 Independent Lens Audience Award in the States!
Voting for the Audience Award opens today Monday, June 18th and ends on Friday, June, 29th, 2018 at 1 PM Pacific Standard Time. Cast your vote now!
VOTE NOW
If you found solace in watching Unrest, if you felt seen, if Unrest moved you or your friends, family, neighbors to greater understanding and empathy, please vote and encourage others to vote as well.
Winning this award would mean renewed interest in Unrest and therefore, further visibility for Myalgic Encephalomyelitis. Let's keep elevating ME every chance we get until the neglect and stigma are gone for good.
Let's make some noise for ME! Vote now!
from Jen Brea & The Unrest Team