TED Summit video, filmed June 2016, of a talk by film maker Jennifer Brea: What happens when you have a disease doctors can't diagnose  January 2017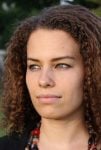 Five years ago, American Jennifer Brea became progressively ill with myalgic encephalomyelitis, a debilitating illness that severely impairs normal activities and on bad days makes even the rustling of bed sheets unbearable.
In this poignant talk, Brea describes the obstacles she's encountered in seeking treatment for her condition, whose root causes and physical effects we don't fully understand, as well as her mission to document through film the lives of patients that medicine struggles to treat.
She also highlights the attitudes that have caused many medical conditions over the years to have been classified as psychological, thus delaying scientific research and the search for a cure.
Watch the video [17 mins]
Jennifer Brea's website           Meet the artist video
Her film Unrest, previously Canary in a coal mine, will premiere in the documentary competition at the 2017 Sundance Film Festival.
ParkRecord blog post by Frances Moody, 17 January: 'Unrest' documents lives of ME patients       The documentary shows the struggle of those who suffer from ME or CFS