Diagnostic and pharmacological potency of creatine in Post-Viral Fatigue Syndrome
by  Sergej M. Ostojic
in

Nutrients 2021, 13(2), 503; [doi.org/10.3390/nu13020503] (This article belongs to the Special Issue Creatine Supplementation for Health and Clinical Diseases)
Review abstract
Post-viral fatigue syndrome (PVFS) is a widespread chronic neurological disease with no definite etiological factor(s), no actual diagnostic test, and no approved pharmacological treatment, therapy, or cure.
Among other features, PVFS could be accompanied by various irregularities in creatine metabolism, perturbing either tissue levels of creatine in the brain, the rates of phosphocreatine resynthesis in the skeletal muscle, or the concentrations of the enzyme creatine kinase in the blood. Furthermore, supplemental creatine and related guanidino compounds appear to impact both patient- and clinician-reported outcomes in syndromes and maladies with chronic fatigue.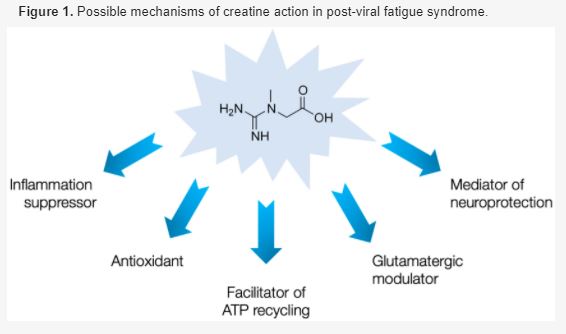 This paper critically overviews the most common disturbances in creatine metabolism in various PVFS populations, summarizes human trials on dietary creatine and creatine analogs in the syndrome, and discusses new frontiers and open questions for using creatine in a post-COVID-19 world.
Conclusions
Currently, there is not enough evidence to unequivocally endorse supplemental creatine for PVFS. However, the findings from initial trials on the metabolic substrate of PVFS, along with promising results from interventional studies, emphasize the need to explore creatine and similar compounds in this ever-prevalent yet baffling disorder.
The need for an effective, low-risk, and affordable dietary intervention to tackle post-COVID-19 fatigue, which is going to remain an issue for years to come, perhaps provides a unique research opportunity to explore creatine in PVFS using expedited yet diligent approaches.