#TimeForUnrestWales in the Senedd – Wed 24 Oct 2018
Seven AMs accepted the invitation from Mark Isherwood AM to join people with ME and carers at an event in the Senedd, the home of the Welsh Government. More AMs expressed interest and sent their apologies.
The message:
ME wrecks lives and disrupts families
Too few GPs understand enough about neurological ME to diagnose accurately & in a timely manner
Lack of medical expertise in ME also leads to inappropriate treatment referrals and management advice, often leading to a deterioration in symptoms
MESIG, the Cardiff Support Group presented an excerpt from the award winning, and very moving documentary film Unrest. This was followed by the opportunity to hear ME stories from local people, and an update on the state of healthcare for ME and the campaign #TimeForUnrestWales.
People with ME are asking for:
Welsh Government commitment to urgently provide finance and direction to enlist medical expertise and create a national training and awareness programme on neurological ME for NHS Wales
A speedy response by the Cabinet Secretary to implementing changes following the 2018 Review of services
Health Boards to be held accountable and assisted to implement training and awareness improvements in order improve diagnosis, management and access to generic services
An S4C news team arrived before the event to film and interview a group of people with ME and their families, who were standing outside the Senedd with posters, giving a visible presence to the event.
Assembly members:
Mark Isherwood AM – North Wales                   Julie Morgan AM – Cardiff North
Jane Hutt AM  – Vale of Glamorgan                   Jenny Rathborne AM – Cardiff Central
John Griffiths AM – Newport                               Hefin David  AM – Caerphilly
Vikki Howells AM  – Cynon Taff                          Adam Price AM – Carmarthen
Also present:
Stephen Allen, Chief Executive of Cardiff & Vale of Glamorgan Community Health Council
Christine Roach, Public Health Wales, seconded to the Welsh Government

ME stories:
Deirdre Penny – parent carer of adult daughter with severe ME
Millie Earp – young adult with ME
Jon Vaughan – carer of fiancé with severe ME
ME Health & Social Care crisis in Wales – #TimeForUnrestWales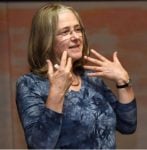 Jan Russell, Chair of WAMES & patient rep on the government's All Wales Implementation Group, explained how the recommendations in the Welsh Government's 2014 Task & Finish Group Report had been designed to give practical steps to help Health Boards improve healthcare for people with ME & Fibromyalgia. 4 years later, many have not been implemented by Health Boards and no HB has implemented the recommendation to train and raise awareness with GPs and healthcare staff.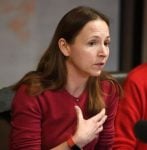 Dr Nina Muirhead, is a surgeon, person with ME & lecturer at Cardiff Medical School. Nina outlined her hopes and plans for Cardiff to be the first university to include neurological ME in medical students' education.
The speakers were followed by a lively discussion about why doctors and the NHS are reluctant to take ME seriously and what could be done about it. All contributions will be considered via the ME services survey, the All Wales Implementation Group (AWIG) and/or WAMES.
Photos by Tom Martin