#TimeForUnrestWales
 the Cabinet Secretary for Health's plans for ME & CFS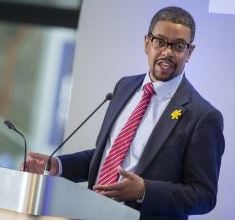 In early May WAMES wrote to the Cabinet Secretary for Health, Vaughan Gething, expressing concern for the slow progress in implementing the Task & Finish Group Report's Recommendations and asking him:
to provide, as a matter of urgency, support and finance for a national training and awareness programme.
See: #TimeForUnrestWales – the struggle to get an accurate diagnosis
The Cabinet Secretary has replied saying:
I welcome WAMES' continued support for this agenda and the important challenge that your organisation brings to both Welsh government and health boards across Wales. I understand your frustration with the apparent lack of investment by health boards in services for those suffering from CFS/ME… I do recognise that more needs to be done for patients suffering with CFS/ME and other persistent pain conditions.
Vaughan Gething's proposals:
National training programme – he asks WAMES to work with the All Wales Implementation Group (AWIG) to submit a proposal to Health Education and Improvement Wales for a national training programme, for consideration when it is fully established later this year.
E-training package – he has asked the AWIG to consider developing a training package to assist with more accurate diagnosis that could be loaded onto the e-learning platform for GPs, funded by the Welsh government.
Health Board work plans – he has asked his officials to continue to work with the all Wales implementation group and health boards to  push for CFS/ME and FM to be included by all health boards in next year's IMTPs, as so far only some HBs have included them. [IMTP stands for: Integrated Medium Term Plan.  This Plan describes the progress a Health Board has already made and what they are planning to achieve over the next three years. If it is not in the IMTP, it is not considered a priority]
CFS/ME services review – he has asked Christine Roach, a secondee from Public Health Wales to review CFS/ME and FM provision in Wales and make recommendations on actions that can be taken by both health boards and the Welsh government to improve services for people with these conditions. This report will be concluded this calendar year and he has asked Christine to contact WAMES directly.
ME & Neurological Services – the Cabinet Secretary says:
With regards to the inclusion of CFS/ME within the NCIG (Neurological Conditions Implementation Group) the matter has previously been discussed multiple times in the last few years and whilst they recognise that the WHO classifies CFS/ME as a neurological disorder, they have struggled to reach a consensus on whether the condition should be included under the remit of the group.
In June 2017 the group agreed that the conditions would not be best served by being included within the remit of the group as the vast majority of patients were not receiving regular care from neuroscience services and were generally supported by other specialities.
This was further clarified with the Wales Neurological Alliance at the last meeting in March 2018.
WAMES does not find it satisfactory that Neurological Services should be permitted to exclude people with ME and CFS, and we do not agree that patients are 'generally supported by other specialities'. We are however keen to work with anyone who is willing to develop services and our priority will be to ensure those services are appropriate and acceptable to people with ME and CFS.
WAMES welcomes the Cabinet Secretary's support for ME & CFS and his desire to improve health services. WAMES will be working with the All Wales Implementation Group and Chris Roach throughout 2018 to implement his proposals and will report back to him.