Managing fatigue in postural tachycardia syndrome (PoTS): The Newcastle approach, Victoria Strassheim, Jenny Welford, Rob Ballantine, Julia L Newton in Auton Neurosci. 2018 Feb 22. pii: S1566-0702(17)30328-4 [Epub ahead of print]
Highlights:
Fatigue is a common symptom described by those with PoTS.
Chronic Fatigue Syndrome is often co-diagnosed with PoTS.
Management of fatigue in PoTS is best delivered as a multidisciplinary approach.
Research abstract:
Fatigue is a significant symptom that is frequently reported by those with postural tachycardia syndrome (PoTS). There are a variety of reasons why those with PoTS might experience fatigue and as a consequence an individualised approach to management is most appropriate.
In this chapter we will examine the prevalence of fatigue in those with PoTS, its overlap with conditions such as chronic fatigue syndrome and describe a clinical approach to the management of fatigue in those with PoTS.
Extract:
Managing fatigue
Managing fatigue is possible, but it is not easy. It takes commitment, persistence, trial and error with no immediate quick fix. There is no medication that will cure fatigue in general, or specifically in those with PoTS and a multi-disciplinary approach is needed to aid its management.
First, it is important to find a stable start point. In our fatigue clinic, in Newcastle UK (Hackett et al., 2016; Lambson et al., 2015) we frequently ask people to complete activity diaries and to grade whether their activities are high, medium or low, defining periods when they are resting or asleep. When people do this, they can often see patterns in their activity that highlight how they may be booming and busting, or pacing their activity appropriately.
The management booklet that we use in Newcastle is available via http://www.ncl.ac.uk/medicalsciences/research/centres/fatigue/, and the components of our multidisciplinary approach shown in Fig. 2.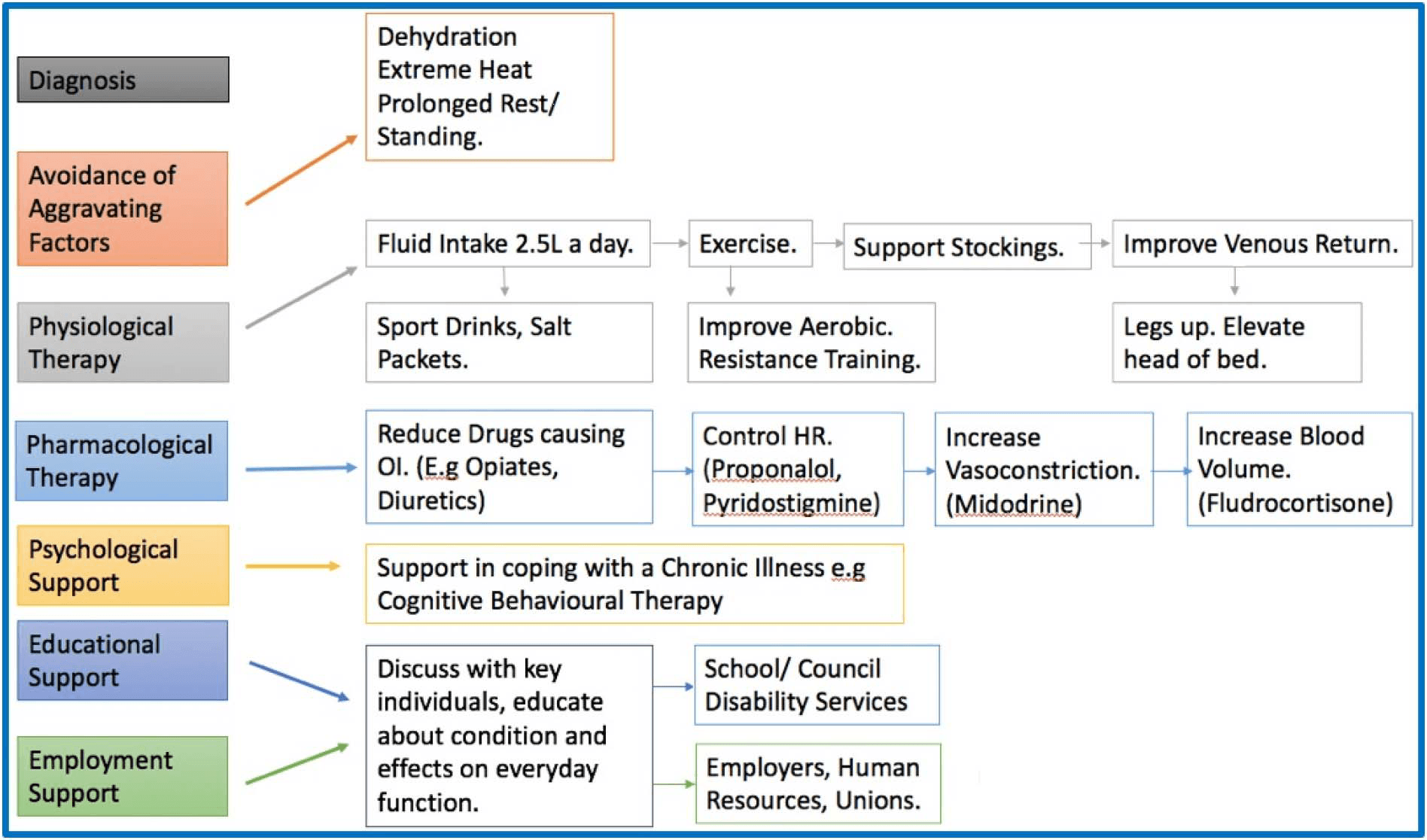 When managing fatigue in PoTS patients, much of the advice that we use in our clinical practice is generic and some extrapolated from information available in the CFS literature (Chronic Fatigue Syndrome/ Myalgic Encephalomyelitis (Encephalopathy); Diagnosis and Management, NICE 2007). However, by understanding the mechanisms that might lead to symptoms in PoTS, exacerbations can be avoided in order to help find a stable base line from which to manage and improve.
We consider fatigue management as being a package of advice that we provide for PoTS patients, it is unlikely that one thing alone will make the difference people want, it is most likely that approaching management of fatigue from multiple perspectives will have the best result.
It is our group's experience that once PoTS physiology improves, people with CFS/ME are then able to exercise, suggesting that it is the orthostatic intolerance keeping PoTS patients less active rather than an unwillingness to exercise in the first place.