Mitochondria and Immunity in Chronic Fatigue Syndrome, by G Anderson, Michael Maes
in

Prog Neuropsychopharmacol Biol Psychiatry 2020 May 26 [DOI:10.1016/j.pnpbp.2020.109976]
Review abstract:
It is widely accepted that the pathophysiology and treatment of myalgic encephalomyelitis/ chronic fatigue syndrome (ME/CFS) could be considerably improved. The heterogeneity of ME/CFS and the confusion over its classification have undoubtedly contributed to this, although this would seem a consequence of the complexity of the array of ME/CFS presentations and high levels of diverse comorbidities.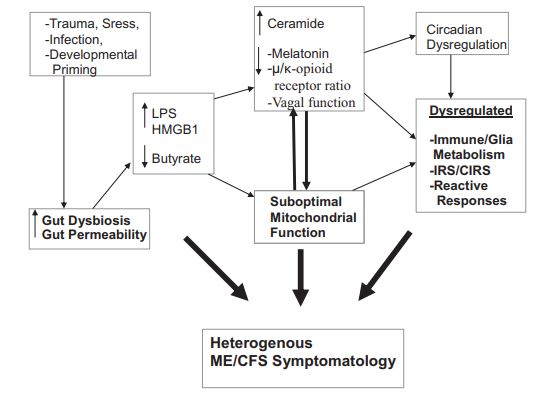 This article reviews the biological underpinnings of ME/CFS presentations, including the interacting roles of the gut microbiome/permeability, endogenous opioidergic system, immune cell mitochondria, autonomic nervous system, microRNA-155, viral infection/re-awakening and leptin as well as melatonin and the circadian rhythm. This details not only relevant pathophysiological processes and treatment options, but also highlights future research directions.
Due to the complexity of interacting systems in ME/CFS pathophysiology, clarification as to its biological underpinnings is likely to considerably contribute to the understanding and treatment of other complex and poorly managed conditions, including fibromyalgia, depression, migraine, and dementia. The gut and immune cell mitochondria are proposed to be two important hubs that interact with the circadian rhythm in driving ME/CFS pathophysiology.