Research abstract: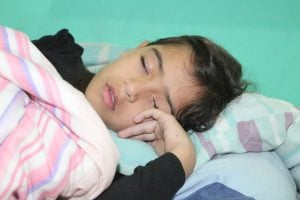 Sleep problems have a negative impact on a range of outcomes and are very common in adolescents with chronic fatigue syndrome (CFS). We aimed to (a) establish whether adolescents with CFS have more self-reported sleep problems than illness controls as well as healthy controls, (b) investigate changes in sleep problems and (c) explore the extent to
which sleep problems at baseline predict fatigue and functioning at follow-up in adolescents with CFS.
The Insomnia Scale was completed by 121 adolescents with CFS, 78 healthy adolescents and 27 adolescents with asthma. Eighty (66%) treatment-naive adolescents with CFS completed questionnaires approximately 3 months later.
Adolescents with CFS reported increased sleep problems compared to healthy controls and adolescents with asthma. In CFS, there was no significant change in sleep problems without treatment over a 3-month follow-up. Sleep problems at baseline predicted a significant proportion of the variance in sleep problems at follow-up. Sleep problems should be targeted in treatment. Regulating the 'body clock' via the regulation of sleep could influence outcomes not assessed in this study such as school attainment.