Research abstract:
Purpose:
Chronic fatigue syndrome (CFS)/myalgic encephalopathy (ME) is relatively common in children and is disabling at an important time in their development. This study aimed to develop a conceptual framework of paediatric CFS/ME using the patient-perspective to ensure that the content of a new outcome measure includes the outcomes most important to young people.
Methods: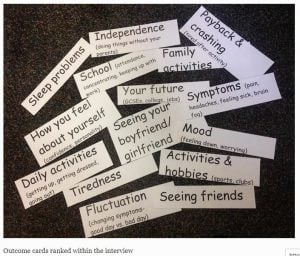 We developed a child-centred interactive card ranking exercise that included health-related quality of life (HRQoL) outcomes identified from a previous review of the literature as well as qualitative work. Adolescents and their parents selected and ranked the outcomes most important to them and discussed each outcome in further detail. Adolescents were purposively sampled from a single specialist paediatric CFS/ME service in England. Interviews were audio recorded and transcribed verbatim, and thematic framework analysis was used to develop the final conceptual framework.
Results:
We interviewed 43 participants in which there are 21 adolescents, 12–17 years of age with mild–moderate CFS/ME and their parents (20 mothers and 2 fathers). 'Symptoms', 'tiredness', 'payback and crashing' and 'activities and hobbies' were ranked most important to improve by both children and parents. Children ranked 'school' higher than parents and parents ranked 'mood' higher than children.
A youth- specific CFS/ME conceptual framework of HRQoL was produced that included 4 outcome domains and 11 subdomains: sleep, tiredness, problems concentrating, individual symptoms, fluctuation and payback, daily and general activities, participation in school, leisure and social life, mood, anxiety and self-esteem.
Conclusions:
An interactive card ranking exercise worked well for adolescents aged 12–17 to elicit the most important outcomes to them and explore each domain in further detail. We developed a final conceptual framework of HRQoL that forms the basis of a new paediatric patient-reported outcome measure (PROM) in CFS/ME.